Dear Visitor,
Welcome to the home site of the Alumni and Friends of Saint Mary of Czestochowa Church.

We are a group of Alumni and Friends of the school or church who came together during the time St. Mary's was closed during the April 2020, disaster. In that year, we formed a group, rooted first in prayer and faith, that dedicated itself to being ready to serve St. Mary's Church and the broader New Kensington and surrounding communities.
Please visit our site regularly and sign up for alerts so you can come to our virtual events. You can also reach us at Facebook, Instagram, Twitter and Snapchat. Visit our YouTube channel.
Please click the LIKE button and leave a COMMENT on the YouTube page.
St. Mary of Czestochowa Reopening
Sunday, November 27, 2022
Mass of Reopening with Bishop Larry J. Kulick
Sunday, November 27, 2022
1:00 PM St. Mary of Czestochowa Church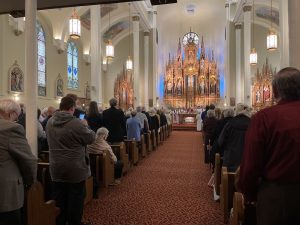 Regular weekend Masses will begin the weekend of December 3/4. No weekday Masses will occur until all work is completed, so that construction workers will not be impeded doing what they need to do on the inside and outside of the church.
Novena to Our Lady of Czestochowa

Join us in prayer for the Novena to Our Lady of Czestochowa. The Novena prayers are linked below to a video Novena and can be prayed at anytime. We hope you will invite your friends of St. Mary of Czestochowa New Kensington to pray with us.
St. Mary's is using technology this year to allow us all to safely pray the Novena to Our Lady of Czestochowa, each in our own way, and to celebrate as a community, as well. The video features parishioners and alumni of St. Mary's praying the Novena and shows the words of the Novena on the screen for you to read along.
With this video, you can pray the Novena at any time of day or even organize with your closest friends and family to safely view it together.
There is no need to register, you just click on the link.
Current and former parishioners of St. Mary's have participated in creating the video. It includes a recording of our parishioners singing "Serdeczna Matko"
The video is dedicated in the memory of John. S. McNally (1942-2022)
Here is a PDF of the novena for you to use. NOVENA TO OUR LADY OF CZESTOCHOWA