THE STORY OF THE ICON OF OUR LADY OF Czestochowa
QUEEN OF POLAND AND PATRONESS OF THE PARISH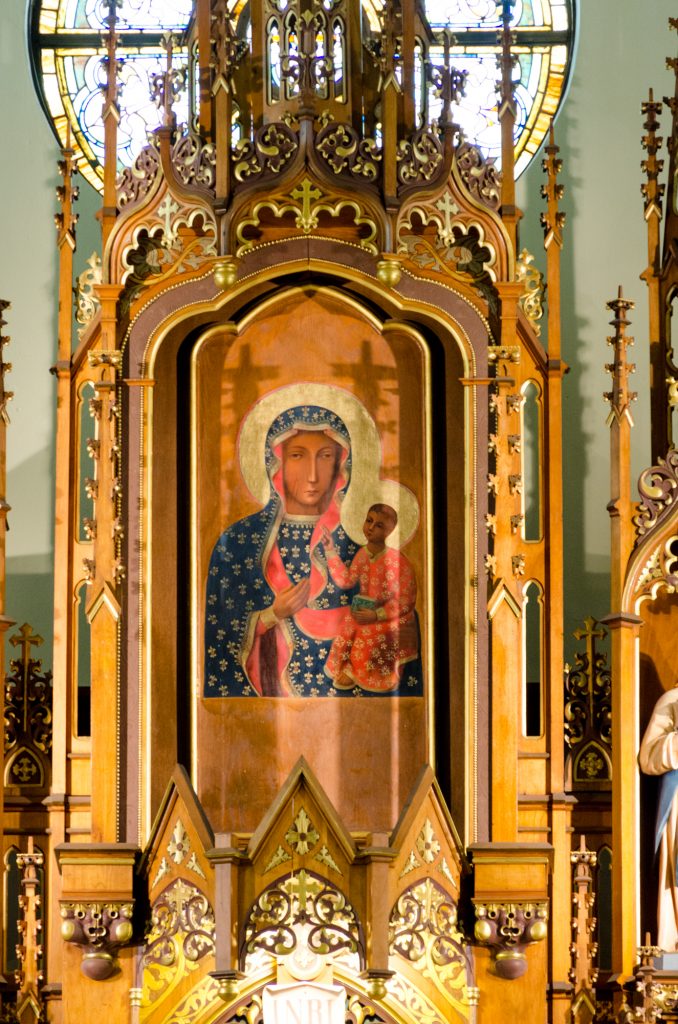 The picture of the patroness of the parish or icon of Our lady of Czestochowa is one of many copies of an original found in Poland. Dear to the hearts of Polish people everywhere, and likewise to the founders of the parish, Our lady, represented in the picture, is given a place of honor in homes, in churches, and in the hearts or some 50 million Poles throughout the world. Copied time and time again, the picture has a religious and historical meaning and deserves an explanation, it also has a very ancient artistic meaning and thus fits into this House of Prayer.
The Blessed Mother was and is special in the religious life of believing people. Feast days, songs, churches, pictures have been named, sung, built and painted in honor of the Mother of the Savior of the World, while nations like Poland have been dedicated to her protection. But what about this particular picture? Where, who, and what still remains in our minds.
A very old and pious tradition holds that the painting of Our Lady of Czestochowa was executed by the gospel writer St. Luke. The tradition further states that the picture was found by St. Helen in 335 A.D. and brought to Constantinople. There it remained until it was given as a gift to a prince in Ruthania for his valiant defense of a northern European territory. History records the picture in Belz, Ruthania until 1382 when it was entrusted to the Pauline Fathers at Jasna Gura, Poland by Duke Ladislanus of Opole. The locality was known as Czestochowa, thus our lady of that place. Several national and historical events are connected with the monastery and icon throughout the 600 years. Most important it's the strength of faith realized at the altar near the picture and the many favors granted through Our lady.
The icon, of true Byzantine style represents a Mother and Child at her heart. Pointing the way to peace with her right hand, the Child seems to say once again, "Behold Your Mother". Marked on the face with slashes by bandits in the 16th century, the picture endured suffering and hardships and strengthens the pilgrims and devotees to Our Lady and her shrine to perseverance and deep faith. At times the icon is covered with a superimposed dress of precious jewels and crowns of diamonds donated by the Holy Father,
As the original icon is high above the main altar, so the copy in this Church is also in a similar place of honor. Along with the Mother and Child is the monastery scene and the title, "Krolowa Korony Polskiej Queen of Poland."